The training comprises five courses, each of five days duration.
The complete 200-hour training program offers a continuous and progressive curriculum that covers the foundations of bodywork and progresses to therapeutic applications.
Thai yoga massage is a profoundly transformative journey that is steeped in the traditions of the East. The teachings are designed to preserve and respect these traditions while imparting their wisdom to our participants.
The curriculum brings together all the essential elements required to adapt to the individual needs of each patient, including emotional, energetic and physical layers.
Our teaching style is focused on maintaining a balance between attention to detail, precision, and clarity, while also emphasizing the qualities of touch, mindfulness, and presence.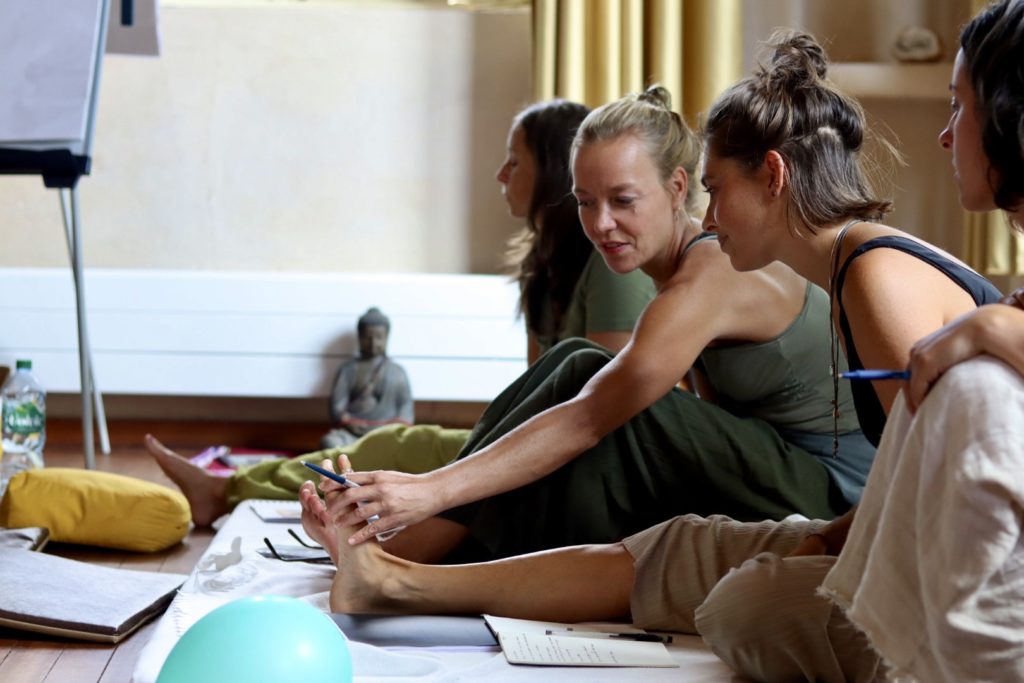 Course 1 & 2: The beginner course
Our beginner training includes two foundation courses that cover the basics of Thai yoga massage and progress towards the integration of a flowing, 2-hour sequence.
We address all the essential aspects necessary for a safe practice, focusing on both the patient's and practitioner's safety.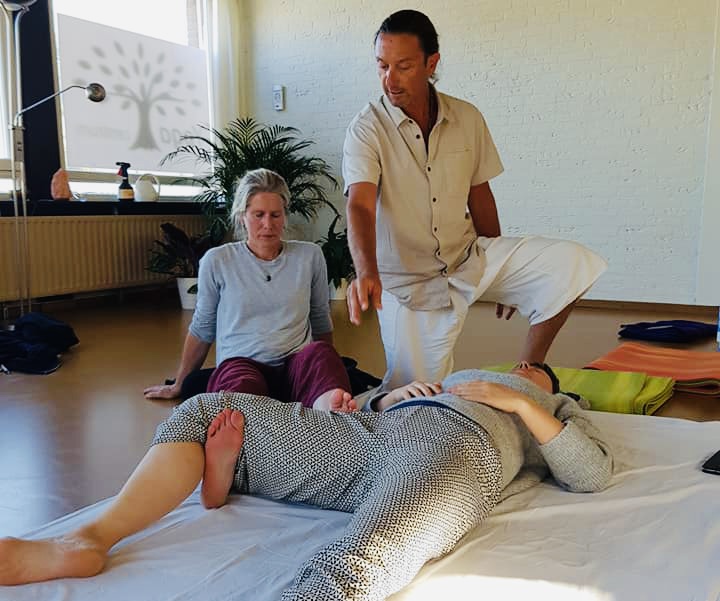 Course 3: Dynamic Thai
Our training program will focus on developing skills to ease transitions and integrations by bringing fluidity to Thai yoga massage.
You will learn to change the rhythms of your massage, adding color and melody to the practice.
Our curriculum covers the principles of reciprocal tension, the applications of rebounds, dynamic movements, and harmonic oscillations. By learning and applying these techniques, you will be able to provide a more nuanced and effective therapeutic experience for your patients.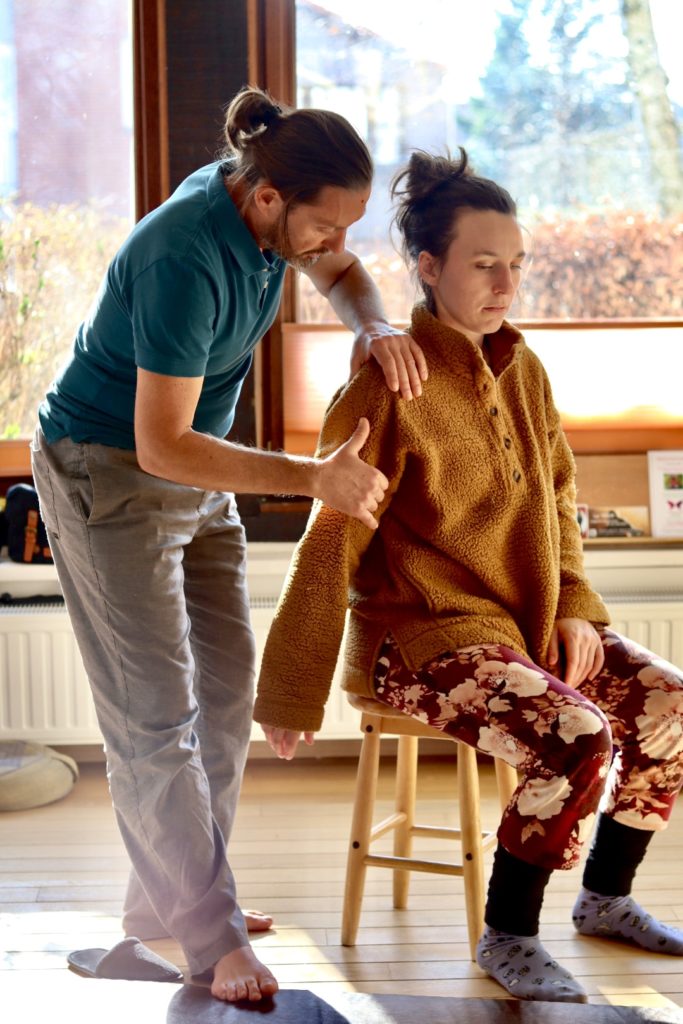 Course 4: Biomechanics & Applied Anatomy for therapeutic application
In our clinical practice training, we focus on fine-tuning our qualities of sensing and palpation. We teach our students to cultivate a mind structure that supports, guides, and informs their practice.
By developing these skills, practitioners can more effectively identify and address the specific needs of their patients, resulting in a more effective and personalized therapeutic experience.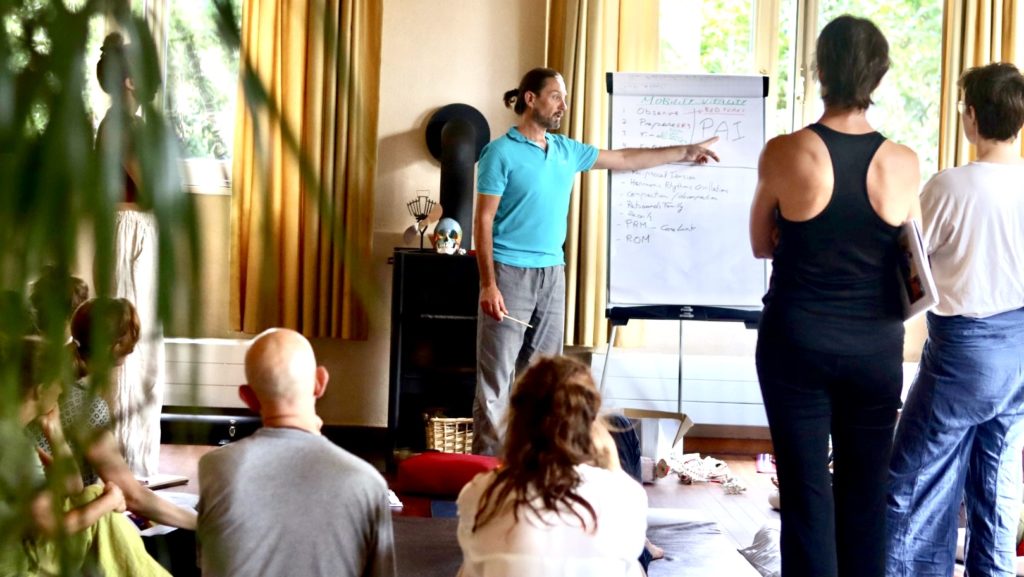 Course 5: Integration
This course is undoubtedly the most important, as it covers the integration of various techniques in different directions, such as left/right, top/bottom, superficial/deep, and central/peripheral.
It is also the course where we focus on case studies and specific cases, allowing students to apply their newly acquired skills to real-life situations.
Daily Rhythm
08.30 – 9.00: Meditation & Yoga
09.15 – 13.00: Class
13.00 – 14.30: Lunch break
14.30 – 17.30: Class
Dates
TRAINING 2024 / 2025
19 to 23 Oct 2024
26 to 30 Dec 2024
01 to 05 Mar 2025
03 to 07 May 2025
13 to 17 Aug 2025
Price
TRAINING 2024 / 2025
Super Early Bird: 2650€ valid until 01 July 2024
Early Bird: 2850€ from 02 July until 22 Sept 2024
From 23 sept 2024: 3000€
Terms and conditions
Your registration is effective with the confirmation by mail + the total course fees transferred to the account of the ASBL ECOLE DE THAI YOGA MASSAGE
Certification
Have followed the entire TYM practitioner Training
Before the integration course:
Submit: a list of 30 study reports.
Write 1 topic about Thai Yoga Massage.
During the integration course:
A kind and mindful evaluation.
Theoretical & practical
Where
35, rue Mareyde – 1150 bruxelles

Lodging & Practical organization
Possibility of lodging at the venue, the first evening before the beginning of the course until the end of the course.